Cuttlefich &
Les Petits Ceps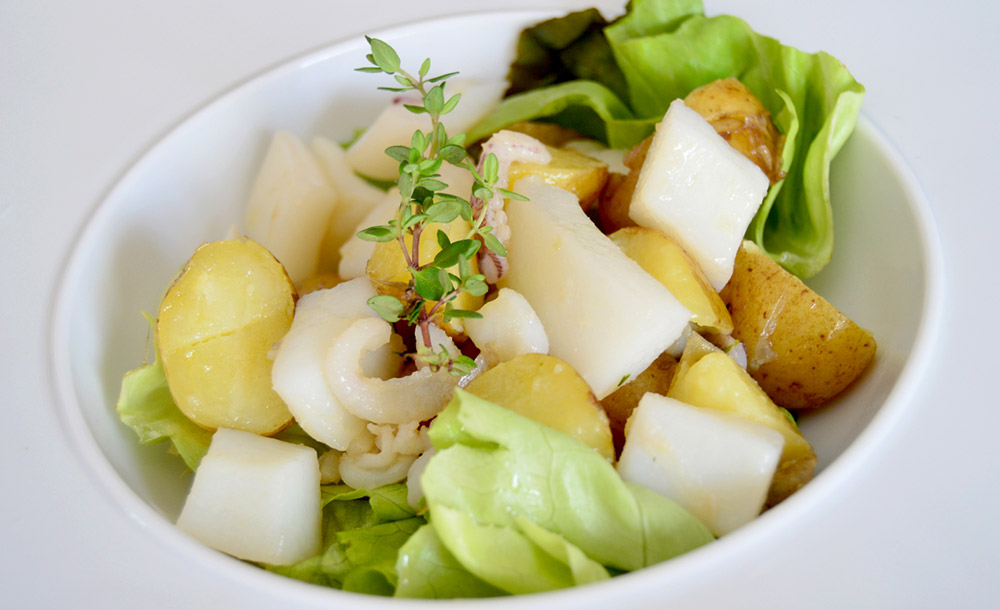 Ingredients for 4 people
800g of cuttlefish, 300g of Charlotte early potatoes,
1 sprig fresh thyme,
bay leaves,
green salad,
semi-salted butter,
olive oil,
pepper,
1 lemon,
raspberry vinegar,
fleur de sel.
Preparation
Cut the cuttlefish (washed and prepared by your fisherman) into big pieces, then gently fry with one or two branches of thyme and a knob of butter, for approximately 8 minutes. Watch the cooking, because cuttlefish is cooked very quickly or very slowly.
While it's on the fire, boil water and cook the early potatoes with their skin. Add salt and two very dry bay leaves to the water. Once the potatoes are cooked, let them cold down and then cut them in two. When the cuttlefish is cooked, squeeze a lemon in the saucepan where it has been cooked, and keep the juice for the salad dressing. In the pan's juice, add two spoon fulls of olive oil, a teaspoon of raspberry vinegar, some pepper, and mix them together.
Arrange your plate by putting the green salad first, then the potatoes and the cuttlefish at the very end. Pour the salad dressingand sprinkle a little fleur de sel over the top.
Enjoy…